"Dear Shareholders,
As the worldwide leader in light and sustainable construction, Saint-Gobain plays a key role in the fight against climate change. Our teams work relentlessly to maximize our positive impact by offering our customers a comprehensive and unbeatable range of sustainable solutions, representing 72% of Group sales. "

FOCUS...

"GROW & IMPACT", SAINT-GOBAIN'S STRATEGIC PLAN
FOR 2021-2025

Also known as "eco-construction", sustainable construction is an approach to building or renovation that seeks to optimize the energy performance of homes. At the same time, sustainable construction uses every means to limit the environmental impact of construction and to ensure the highest possible quality of life for the building's inhabitants...

GROWTH CAPITAL EXPENDITURE PROJECTS

Saint-Gobain continues to grow its global footprint in all of its businesses. In 2021, it opened 21 new plants and production lines to reinforce its leading positions on the fast-growing markets of construction chemicals and light construction.

SAINT-GOBAIN NEWS

Saint-Gobain checks in!
A new generation of solar panels
Nothing is lost, everything is transformed!

2021 RESULTS


Sales
€44.2

bn
+13.8%

(*) (**)




Operating income
€4.5

bn
+39%

(*) (**)




Operating margin
10.2

%
+250 bps over the three years of transformation

Recurring net income
€2.8

bn
+47% (*)


Free cash flow
€2.9

bn
+56% (*)


* Comparison versus 2019
** Like-for-like
*** Net attributable income excluding capital gains and losses on disposals, asset writedowns and material non-recurring provisions.
SHAREHOLDERS' NOTEBOOK
On your agenda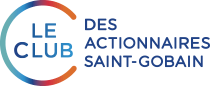 BECOME A MEMBER AS SOON AS YOU BUY YOUR FIRST SHARE
Become a member